Practice What I Preach
~ My Most Popular Workshop!
This is a hands-on lesson of the techniques covered in my lecture

Secrets of Professional Quilters ~ Revealed!

. The skills taught in this class will be used each and every time you quilt!! Here's an opportunity for each student to try many new techniques including the "Make It Larger ~ Trim It Down" technique for Half and Quarter Square Triangles, Flying Geese, and Square in a square units. We'll also cover alternate piecing techniques for the ever popular Corner Square Triangle units. Students then practice what I demonstrate using my tools and notions to see how they like the technique.

We go over a variety of pressing techniques as well. I can help a quilter struggling with accuracy by working with them to improve the accuracy of their 1/4 inch seam by watching the student and/or have them watch me, and offer several helpful options. We will cover how best to handle Connector Corners for perfect results, how to hide flaws and imperfections in the seam allowance, and so much more! If any student would like help with general quilting problems such as those described here, this is an opportunity for one-on-one assistance!


There are 2 flexible options for students who attend this workshop:



Option 1 ~ (Full Cutting Instructions) Participants prepare and cut the fabrics to make the

Practice What I Preach

quilt. They are making the units for the quilt during the workshop.

Option 2 ~ (Short Cut Instructions) For workshop participants who aren't interested in making the

Practice What I Preach

quilt, are too busy to cut all of the quilt fabrics ahead of time, or would rather learn the skills taught using scraps, a Short Cut List of cutting instructions is available. They will learn all of the same techniques but will only cut enough fabric to make one of each unit. This is a very popular option! Quilt size: 43" x 43"


The Heartspun Quilts book of Quilting Hints, Tips, Secrets and How-To's is required for each participant. It also contains the

Practice What I Preach

quilt pattern. Book cost for workshop participants only is $12 (regularly $18) and will be available the day of class. (It is not needed prior to class.)
Class Size: 20


6 hours
Fee: $950.00
---
Colonial Star: A unique small quilt that's fun to piece!
This wonderful quilt is an exact replica of an vintage 1800's quilt. The construction may not be
exactly how you think and is not hard at all!
Learn to make perfect Half Square Triangle and Quarter Square Triangles AND piece a perfect Sawtooth border with my pieced border tips that never fail! Choose just two of your favorite fabrics with high contrast for the perfect vintage reproduction of your own!

Quilt size is 18" x 20"
Class Size: 20
6 hours
Fee $950.00
Colonial Star

pattern required.

Pattern price for workshop participants is $5 (regularly $9) and is available the day of class.
---
Plantation Stars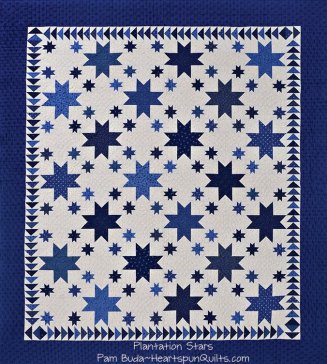 Stars abound large and small in a dance around the quilt making your eyes dance as well!

Both stars are constructed in the same way. The block arrangement creates a wonderful secondary pattern forming a circular pattern around the large stars! So fun! The open space calls out for wonderful quilting to enhance the design even further. Choose whatever two colors are your favorite to work with. Quilt size: 72" x 81"


I also share wonderful tips on making Flying Geese and creating pieced borders that fit!!

Class Size: 20
6 hours
Fee: $950
Plantation Stars pattern is required $5 (regularly $10 and is available the day of class).

---
Settler's Puzzle Workshop
My

Settler's Puzzle

quilt is one of my most popular classes!
I love a quilt that looks like it was really difficult to make but was easy breezy to put together. That's the perfect way to describe my Settler's Puzzle quilt! The quilt features two very unassuming blocks, that when arranged within the quilt…like puzzle pieces…create the wonderful pattern you see in the quilt center. Pair together two lovely, high contrasting fabrics for a truly stunning quilt.


I will also give you my best tips for making perfect half square triangles, along with my tips for sawtooth borders that fit, and have sharp points! Let's solve this puzzle together!

Fabric kits are available in select colorings of Pam's fabric collections with Marcus Fabrics. Students have the option of choosing their own fabric as well. Settler's Puzzle pattern required. Pattern price for workshop participants is $5 (regularly $9) and is available the day of class.

Class size: 20
6 hours
Fee: $950.00
---
Star Strings Quilt & Pincushion Workshop

You may recognize this quilt from being featured in Primitive Quilts magazine, and on the cover of their 2015 calendar! Because I've had so many requests, I've added this quilt to my workshop offerings.

This scrappy quilt features a variety of scrappy Sawtooth Star blocks, each featuring a string paper pieced center! This adds a little more twinkle to each star!

The fundamentals of paper piecing are covered, as well tips for choosing just the right fabrics so each student can make their own Cover Girl worthy quilt!

OR...you can make the matching pin cushion instead!




Star Strings

pattern is required. Pattern price for workshop participants is $5 (regularly $9) and is available the day of class.

Class size: 20
4 hour class
Fee: $850.00




---
Midnight Stars Quilt
Midnight Stars is one of three quilts featured in my Two Color Classics pattern, which is the eighth pattern in the Tokens of the Past series. This quilt is great fun to make as it features two of my all time favorite blocks: Sawtooth Stars and Flying Geese. During our time together in class, I'll be passing along my techniques for making miniature quilts, working with small pieces to make accurate small blocks, and hints for making perfect Flying Geese and getting pieced borders to fit every time!! Make this quilt in your favorite two-color combination. Quilt size: 15 1/2" x 17 1/2"




Often, kits for the Midnight Stars quilt are available. Inquire by email to Pam@HeartspunQuilts.com

Tokens of the Past: Two-Color Classics pattern is required (directions for all three quilts are included!). Pattern price for workshop participants is $10 (regularly $16) and will be available the day of class.

Class size: 20
6 hours
Fee: $950.00
---
Tokens of the Past Series:
Starry, Starry Nines
Starry, Starry Nines is one of three quilts featured in my Nine Patch Reverie pattern, the third pattern in the Tokens of the Past series. This quilt has three fun blocks to make, and of course, features Nine Patch blocks! Choose to make this quilt in one of two sizes...as a wall hanging/table topper, or a lap/throw size (shown below.)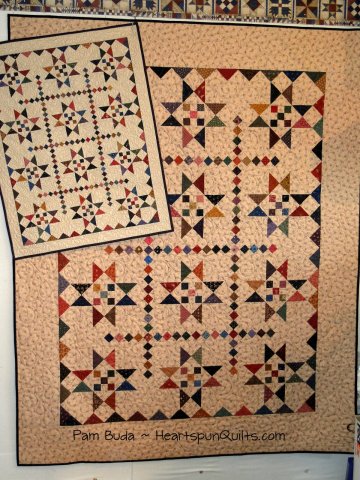 During our time together in class, I'll be passing along my techniques for making units larger and trimming to perfection and accurate piecing. Remember, everyone in class can choose to make their quilt in one of two sizes!! Shown at the right are the wall hanging and lap/throw sized quilts.


Often, kits for the Starry, Starry Nines quilt are available. Inquire by email to Pam@HeartspunQuilts.com






Tokens of the Past: Nine Patch Reverie pattern (including all three quilts shown on the cover, all with various sizes!) is required. Pattern price for workshop participants is $10 (regularly $16) and will be available the day of class.

Class size: 20
6 hours
Fee: $950.00